I'll be honest and say it has been a while since I finished this book and as a tribute to how much it affected me I'm actually still wallowing in its aftermath.
This has been such a gritty and realistic story of two pretty messed up men looking for some form of normality in a hugely prejudiced society. I was drawn immediately to both characters, many because of how broken then both were. Barbara has a wonderful way of making you FEEL through the pages and I honestly warmed to both Malachi and Harper within a few pages of starting the book. Circumstances have made life unbearable for both of them and Harper has lost everything for the last ten years through a long incarceration and Malachi is almost in the same boat. His imprisonment was more emotional than physical in the end but it made it so hard for me to see light at the end of their very dark tunnel.
This was another thing, I was drawn in to their tormented lives from the first page and I devoured their story in almost one sitting (I Have small kids and they sometime get in the way of a good book!). From the moment they see each other at the beginning of the book, you know that somehow they will make it because their attraction to each other isn't just strong, its a connection that you can feel. I spent the best part of the book wondering how in the face of everything life has dealt, would they ever manage to be happy.
Let me say though that when the times are happy, you feel buoyed by their relationship and the moments where thee sadness and inevitable obstacles creep in you also feel their pain and sorrow. I was fully divested in this book emotionally and the roller coaster ride that Malachi and Harper take you on is one that will stay with you for a long time. The ending is certainly not the turn of events that I was excepting and it was a really fitting end to their story.
And as a local girl I also loved the fact i didn't have to use my imagination too much to visualise! I still keep thinking I might see Harper lurking one day in my local supermarket, looking at the toiletries…
I cannot wait to read Conrad's story and this definitely gets a full 5* from me. An absolutely amazing read!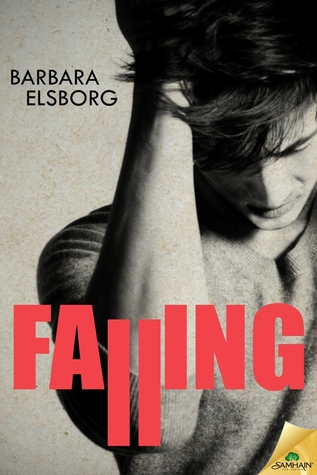 Synopsis:
Falling is easy. Landing without breaking your heart? Impossible.
Harper is no longer behind bars, but it doesn't feel like it. Ten years serving time for a crime he didn't commit have left him shut down, numb, and a frozen wreck over the simplest of choices.
He's acutely aware of the dark-haired young man checking him out in the supermarket, but he's too deep in panic mode to even meet the guy's gaze. Afraid the slightest move will trigger a fall that will never stop.
Fresh off a long-term relationship with a controlling man, Malachi is stuck living with relatives who think he's a waste of oxygen. The tall guy in the long, gray coat is the first bright spot he's glimpsed in a long time…though the man's unblinking stare at a bottle of shower gel is a touch alarming.
Hard experience tells both of them to turn away before lust turns to hopeless attraction, and inevitably to disaster. But once their sparks connect, the arc of electricity is too strong to deny. Even if the cost is too much to bear.
Warning: Contains an ex-con with disaster written all over him, a boy toy who's trouble with a capital T, a damp old British house, compulsive meddling, and enough hot sex to cure the severe case of nervous babbling.

About the Author:
Barbara Elsborg lives in West Yorkshire in the north of England. She always wanted to be a spy, but having confessed to everyone without them even resorting to torture, she decided it was not for her. Vulcanology scorched her feet. A morbid fear of sharks put paid to marine biology. So instead, she spent several years successfully selling cyanide.
After dragging up two rotten, ungrateful children and frustrating her sexy, devoted, wonderful husband (who can now stop twisting her arm) she finally has time to conduct an affair with an electrifying plugged-in male, her laptop.
Her books feature quirky heroines and bad boys, and she hopes they are as much fun to read as they are to write.
GOODREADS / FACEBOOK / TWITTER / AMAZON UK / AMAZON US
Pre Release 5* REVIEW Falling by Barbara Elsborg