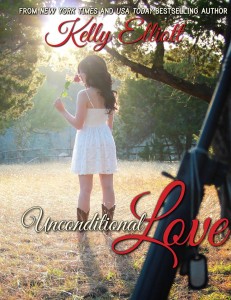 SYNOPSIS
Lark Williams leads a fast-paced life, always on the edge of danger. Running from his past and fighting to keep his present life a secret, he keeps his heart out of reach from love. The walls he built around himself come crumbling down when he meets Azurdee Emerson.
Azurdee lives a peaceful life in the small town of Wimberley, Texas. Her tame world quickly becomes heated as she begins to fall in love with Lark. He's everything she has vowed to stay away from—dark and mysterious, and not to mention, sexy as hell and full of secrets.
Just as Lark and Azurdee give in to their feelings of love, Lark's present life threatens the safety of the one person he would sacrifice his own happiness for. When Lark finds history repeating itself, he makes a decision that will forever change both of their lives, leaving one heartbroken and lost and the other fighting to survive.


5* review!
Let me start by saying I was extremely honoured and so excited to receive a copy of Kelly's new release to review.  I ADORE kelly and none of her books have ever left me anything but satisfied and full of butterflies in my tummy and can I just say this beautiful story was again perfect!
Where do I start? Well, first off who doesn't love a hunky man, especially a man in Uniform?  Lark is just WOW and even though he has an attitude to rival any man-whore at the beginning of the book, you can't help but feel for him when you realise why he is so detached from his feelings.
Azurdee is just such a beautiful and sweet girl and I loved her from the moment I met her!  You can't help but feel from the beginning the she will do great things for Lark if he would only just admit he feels for her!
The chemistry between the two characters is amazing and from the start you just hope that the obstacles that are in their way will mean that they can be together.  The intimate scenes are HOT and their first time together really had me in hot sweats but surprisingly they just get hotter throughout the book. Phew!  Ladies, you may well need a couple of dry pairs of panties at the ready too!
A huge roadblock to the story is Lark's past and this has moulded him and lead to him pursuing a career path that isn't conducive to him leading a normal life and he is forced to keep secrets.  His long absences from real life also add a dimension to the story that at times makes you feel so bad for both Lark and Azurdee.
There are many ups and downs for the couple and honestly I really was wondering how things were going to turn out in the end! And you will not be disappointed with the end either! The last chapter in the Epilogue is amazing and had me totally melting at the end! My heart has broken and been fixed and broken again and the roller coaster of emotions has kept me utterly gripped! I have had my fair share of swoon moments and once again Kelly has hit the nail on the head with the romantic gestures from the leading man!
This book had a fantastic array of supporting characters too and some of the incidents with Lark's parents are hilarious!  Lark's mum and Azurdee have a "moment" that had me cringing but laughing at the same time (see the excerpt below!). Love the light-heartedness at times and its no bad thing to have a laugh too!  And Ari, well she also makes a couple of cameo appearances too and in true Ari style adds her unique charm (!) and wit to the story too!  I also loved the addition of the love disaster of Tristan (Lark's brother) into the mix because his story is going to be a really interesting one too!
It has been nice to be back in Kelly's characters as it has been a while since I've read one of her books (The Wanted series is one of my favourite go to series when I need a pick me up in a book!).  Her characters aren't ever too damaged and especially I loved the fact that Azurdee is just so pure and perfect and the absence of an angsty storyline made me just want to keep reading more!
This is once again beautiful masterpiece from the extremely talented and amazing Kelly and cannot wait to hear Tristan's story!
If I could leave more than FIVE stars I'd leave this book the universe!
EXCERPT
I stood in the cold shower cursing Lark. I leaned my head back and let the cool water run through my long hair. It wasn't too terribly hot out, but hot enough to make it miserable with my long hair. I reached for the soap and began quickly cleaning myself off. I hadn't had any intentions of finishing off what Lark started, but the moment I heard the bathroom door open and close quietly I knew I had to do it. I pushed my hand down between my legs and began touching myself.
"Ohh…yes…oh God…" I panted as I began moving my hand faster. I was waiting for him to tell me to push my fingers inside myself and I could almost feel the orgasm building.
I heard something drop and opened the door to find Joyce standing there shielding her eyes.
"Oh my God!" I screamed out.
"Oh goodness…Azurdee, I'm in here!" Joyce cried out.
"I know! I'm oh my God-ing that you're in here…while I'm in the shower."
I quickly grabbed a towel. "Joyce! Why are you in here?" I asked as I turned off the water.
"Well, Michael asked me to bring you this lotion. He said you would want it after your shower."
I instantly felt the anger building up in my chest. That bastard!
"I'm going to kill him," I whispered.
Joyce asked, "Are you covered? Can I look at you now?"
"Yes," I said as I shook my head and said, "I'm covered."
Joyce turned and gave me a weak smile. "Now I know it's none of my business, but maybe you should talk to Michael, honey. I'm sure he can…well, he can…well, I don't know if you're having sex or not, but I'm going to go with yes, and if he isn't performing to his…"
Dear God no. This is not happening. This. Is. Not. Happening.
"Joyce! Please. This is just weird. It's all just very weird for you to be saying what you're saying."
She nodded her head and said, "Well I think so, too. I would think if you were happy in the sex department you wouldn't need to masturbate."
She tilted her head and looked up like she was thinking. "I should have Peter have a talk with Michael."
"No!" I yelled out. "Joyce, I'm very satisfied. Beyond satisfied. Lark is a very good…well…he…umm…"
I closed my eyes and wished like hell I could go back in time about ten minutes ago.
"Can we just stop this conversation, and may I please have some privacy to get dressed?"
Joyce nodded her head and said, "Of course. Well um…dinner will be ready in about forty-five minutes, so…ah…"
She looked me up and down and her cheeks blushed. "I'll just send Michael on up to um…well…help, I guess."
My mouth dropped open and I stumbled back against the wall.
I slowly slid down to the floor after she shut the bathroom door and looked up. "I'll do anything. Anything if you just give me back the last fifteen minutes or so. I swear…God. Anything."
When the door opened and Lark walked in he was laughing his ass off. I shook my head and said, "No sex for you for the rest of this trip. None."
MEET KELLY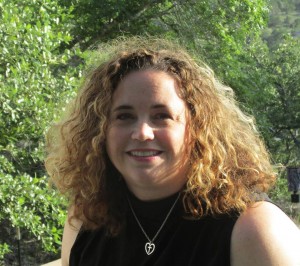 Kelly is married to a wonderful Texas cowboy who has a knack for making her laugh almost daily and supports her crazy ideas and dreams for some unknown reason…he claims it's because he loves her!
She's also a mom to an amazing daughter who is constantly asking for something to eat while her fingers move like mad on her cell phone sending out what is sure to be another very important text message.
In her spare time she loves to sit in her small corner overlooking the Texas hill country and write.
One of her favorite things to do is go for hikes around her property with Gus….her chocolate lab and the other man in her life, and Rose, her golden retriever. When Kelly is not outside helping the hubby haul brush, move rocks or whatever fun chore he has in store for her that day, you'll find her inside reading, writing or watching HGTV. 
Stay connected with Kelly Elliott:
FACEBOOK / TWITTER / WEBSITE / GOODREADS
Email: authorkellyelliott@gmail.com
GIVEAWAY
PUBLISHED BOOKS BY KELLY ELLIOTT:
THE WANTED SERIES
WANTED
SAVED
FAITHFUL
BELIEVE
CHERISHED
A FOREVER LOVE
THE BROKEN SERIES
BROKEN
BROKEN DREAMS
JOURNEY OF LOVE SERIES
UNCONDITIONAL LOVE
UNDENIABLE LOVE (OCTOBER/NOVEMBER 2014)
BLOG STOP and REVIEW Unconditional Love by Kelly Elliott