Today I'm kicking off with a spotlight on Kimberly Knight's B&S series. These introduce us to Brandon, hot and hunky owner of a gym and Spencer who has been recently heartbroken who share an incredibly hot moment on the dance floor in Las Vegas! This is a heartwarming series and is pretty steamy too but you'll love Brandon and Spencer's journey as well as meeting a few other interesting characters along the way!
Her current new release Tattooed Dots is the first in a new series and this also promises to be the start of an amazing story too!
Tattooed Dots deserves a mention first!  My review of this can be found by clicking Here!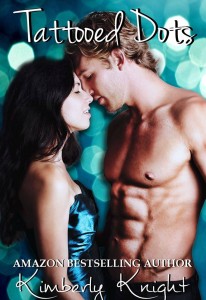 Synopsis:
Easton Crawford put his modeling career and good looks before his marriage until it was over. Years later, he is finally learning how to be the father his daughter needed him to be. He's not looking for a new mom for his daughter—just nightly casual hook-ups. When his best friend, Avery, convinces him that a good way to meet a lot of single women is to go on a single's cruise, Easton finds more than just a hook-up when he meets a fellow cruiser, Brooke.
Brooke Bradley has taken care of her younger sister, Bailee, for most of their lives. While their mother was enjoying not being a mother, Brooke became the adult in the household at thirteen. She had always taken care of the people in her life, especially her boyfriend, Jared. If it wasn't for Brooke, Jared wouldn't know how to function throughout the day.
When Brooke's best friend, Nicole, gives her a gift of going on a cruise without telling her that it's a single's cruise, will Brooke find someone willing to be her constant and finally leave Jared?
Brooke and Easton learn that people are brought into their lives for many reasons. Over time, they find out what those reasons are. Some are to be a temporary acquaintance while others are there for life.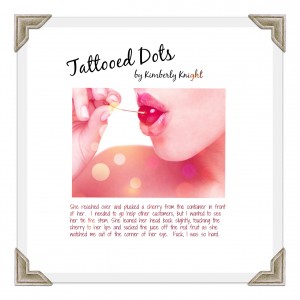 Links:
Amazon US: www.amazon.com/dp/B00HSSV3QC
Amazon UK: www.amazon.co.uk/dp/B00HSSV3QC
B&N: www.barnesandnoble.com/w/tattooed-dots-kimberly-knight/1118601632?ean=2940148210320&itm=1&usri=tattooed+dots
Smashwords: http://www.smashwords.com/books/view/406600
The first book in the B&S series is Where I Need To Be: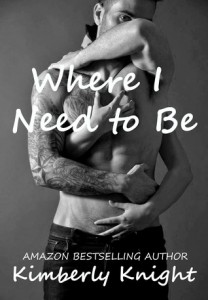 Synopsis: Spencer Marshall was done moping. After catching her boyfriend cheating with his secretary, she decides to have a girl's weekend in Vegas with her best friend Ryan. Lady Luck must be looking out for Spencer, because that weekend will change her life forever. Despite what people say, not everything stays in Vegas.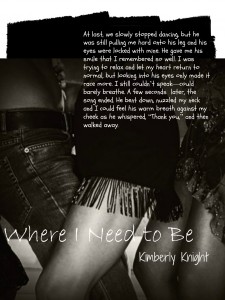 Links:
Amazon US: www.amazon.com/dp/B00ANZ1KZQ
Amazon UK: www.amazon.co.uk/dp/B00ANZ1KZQ
B&N: www.barnesandnoble.com/w/where-i-need-to-be-kimberly-knight/1113966493?ean=2940015762495&itm=1&usri=where+i+need+to+be
Smashwords: http://www.smashwords.com/books/view/265044
Book two is Wanted: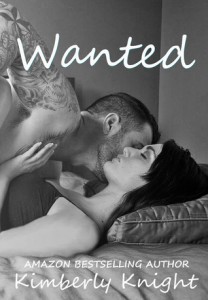 Synopsis: From the moment she first saw him running on the treadmill next to her, Spencer Marshall had fallen head over heels in love with Brandon Montgomery. After Spencer has a near-death experience she would rather forget, they do their best to move on with their lives, leaving their past behind them.
Thankful for a fresh start and eager to move on with her life, Spencer focuses on helping her best friend Ryan Kennedy plan her wedding. Everything seems to be going as planned when someone from Brandon's past reappears. Can Spencer and Brandon survive the coming days as they struggle to deal with ghosts from the past?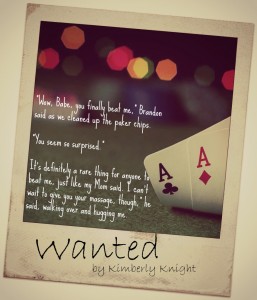 Links:
Amazon US: www.amazon.com/dp/B00BZZSC5O
Amazon UK: www.amazon.co.uk/dp/B00BZZSC5O
B&N: http://www.barnesandnoble.com/w/wanted-david-knight/1015820277?ean=9781482767773
Smashwords: https://www.smashwords.com/books/view/298945
Book three of the series is Anything Like Me: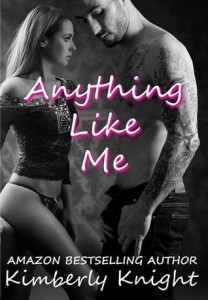 Synopsis:
After walking in on her cheating boyfriend, fate led Spencer Marshall to the love of her life, Brandon Montgomery. Now, she has a wedding to plan. With hope that the demons from their pasts will finally leave them alone, Brandon and Spencer look forward to growing old together.
Just as things are finally looking up, an unexpected houseguest arrives and stays much longer than expected. Will their love be strong enough to overcome the bad influences of their new roommate and the emotional aftermath of dealing with the trial? And when an unforeseen tragedy strikes, can Spencer finally have the happy ending she deserves?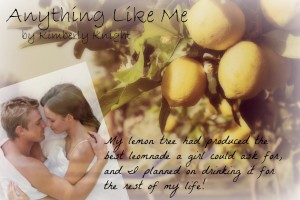 Links:
Amazon US: www.amazon.com/dp/B00E37NZOE
Amazon UK: www.amazon.co.uk/dp/B00E37NZOE
B&N: http://www.barnesandnoble.com/w/anything-like-me-kimberly-knight/1116214405?ean=2940148777069&itm=1&usri=anything+like+me
Smashwords: https://www.smashwords.com/books/view/339604
You can also buy and entire box set of the three books too if you are a complete newbie to this series: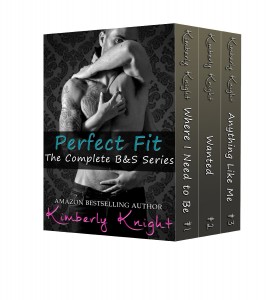 Links:
Amazon US: www.amazon.com/dp/B00HAPZEOA
Amazon UK: www.amazon.co.uk/dp/B00HAPZEOA
Kimberly's author links can be found here:
Facebook: www.facebook.com/authorKKnight
Twitter: https://twitter.com/Author_KKnight
Amazon: http://www.amazon.co.uk/Kimberly-Knight/e/B00APPPCKI
Spotlight Kimberly Knight B&S Series