5 Star REVIEW of Tears of Tess by Pepper Winters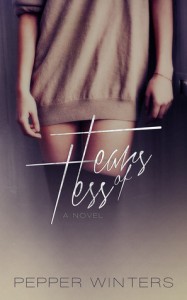 Holy crap! This book gets 5 totally mind messing stars from me! What a story and Q and his damned panty melting French accent has just got me in an utter frenzy in my lady garment department!
I love dark reads and this one blew my mind! And this is one book that should come with a health warning too! Initially I was lulled into a sense that his book wasn't going to be too bad and when we are initially introduced to Tess and you know what is coming, sort of.  But nothing could have prepared me for Tess's journey.  This isn't a romance novel, its dark, gritty and captivating!
Tess isn't like the usual heroine in this book and she totally kick's ass and is a hard nut to crack as her captor's find out. When she is sold her new owner isn't quite what he seems and her life with him takes many twists and turns.  It left me engrossed from the word go!
Q, oh my God Q?!  What to say apart from, "Never judge a book by its cover."  The man has a dark side and secrets you'd probably rather not know but somehow you find yourself utterly drawn to him!  Everything screamed at my subconscious to step away from him but you just can't!
This book for me was simply amazing!  A dark gritty read that kept me turning the pages until I had finished it! I did it in one sitting and then jumped straight into Quintessentially Q!
Five utterly mind-bending stars!
REVIEW Tears of Tess by Pepper Winters